TSTracker Pro is not your average ERP Software, it is Predictable Profits and On-Time Delivery that are driven by Standardized Quoting and Job Cost Tracking for Mold and Die shops.
Identify Jobs in Trouble immediately
Stop missing Deadlines and Profit targets
Pre-configured to support Mold, Die or General Machining
Simple, effective, and affordable job tracking
Benefits of TSTracker PRO ERP for Mold and Die shops
Increase speed and productivity of Estimators
• Grow a common knowledge base
• Standard formats guarantee consistency & confidence
Eliminate inaccurate quoting
• No more overcharging & being uncompetitive
• No more undercharging & losing profit

Drill down to compare your actual costs by labor group with what was quoted
• Identify which labor group (specific activity) performed as expected
• Validate assumptions about costs when the quote was made

Early Warning System for potentially missed delivery-date
Prevent missed long-lead BOM item order dates
Avoid unexpected interruptions to other jobs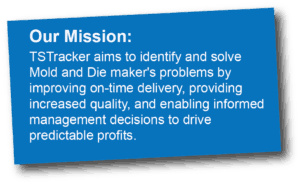 A single platform combines all key aspects of shop management.
This is an ERP designed specifically to solve problems unique to the
Tooling Industry." -by Experienced Manufacturing Professionals
Product PDFs
Need more info? Check out our library of product PDFs.
Introduction to TSTracker PRO
TrackerPRO: On your Radar
Contact us to learn more about
TSTracker PRO
Want to learn more about this software? Contact us today to schedule a product demonstration.