Enterprise Resource Planning Software Simplifies Job Tracking
Originally titled 'Customizable Enterprise Resource Planning Software Increases Efficiencies and Simplifies Job Tracking'
TST Tooling Software Technology LLC, the distributor of Vero Software's VISI products, helped Viking Tool develop an effective job-shop tracking solution.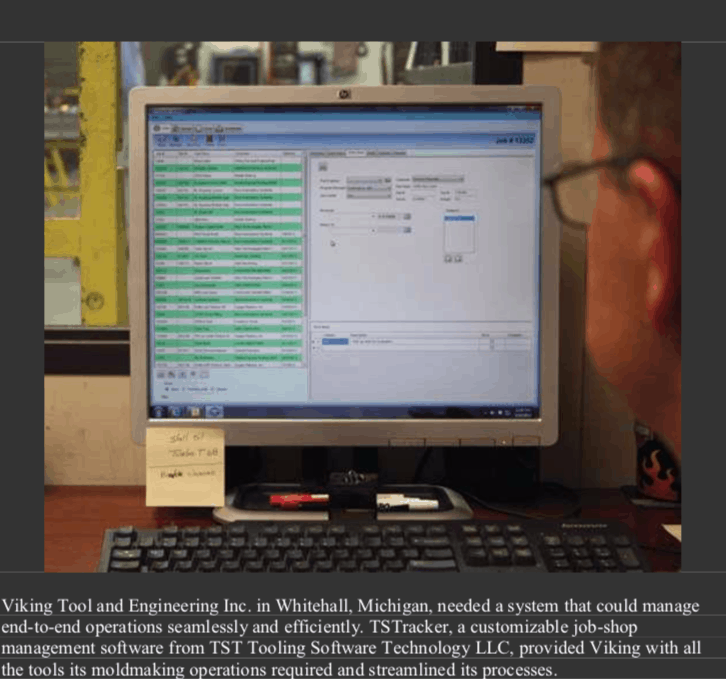 Running a busy shop can be demanding and time-consuming. Day-to-day operations call for shop-floor tracking software that monitors everything from quoting and bills of materials (BOMs) to scheduling and shipping to keep processes running efficiently. Ease and speed are essential for better productivity, and for Rick Seaver, vice president of Viking Tool and Engineering, TSTracker job-shop software was the solution his company had been searching for.
Viking Tool (Whitehall, Michigan) was founded in 1954. It has a staff of more than 30 employees that manufactures plastic injection and compression molds up to 50,000 pounds for the automotive industry. Most of the molds Viking engineers and builds are one- to two-cavity tools with complex details for products like interior door panel substrates, bed rails, and decorative trim that require many lifters, slides and core pulls.
Viking has been fortunate to maintain a consistently busy shop, but to boost profitability it was necessary for Viking to find a complete solution for job-shop tracking that would improve the flow of work from quoting to design and production and create a more process-oriented company. It was also prudent that management could oversee everything with the touch of a button.
Viking Tool and Engineering Inc.
Problem: Company's job-tracking system was inefficient, error-prone, and cumbersome
Solution: TSTracker, a customizable ERP Software fir job-shops from TST Tooling Software Technology, LLC
Results: Streamlined shop tracking and management, from quoting to shipping
Simplified Software Just for Moldmaking
Previously, Viking employed a home-grown shop-management system that consisted of multiple modules, and each were managed separately. For example, it was necessary to open separate system components for quoting, another for material handling, and yet another for work orders. This division of documentation often led to workflow issues like inaccurate data, missed due dates, miscommunication, and so on. "The whole process was not only time consuming but completely impractical for efficient, everyday operations," Seaver says.
Viking tried other tracking software and came away with negative experiences. "The user interfaces were too complicated, certain processes took too long to accomplish, long implementation of the software proved problematic due to lack of support and, if help was needed with a module, no one was there to answer questions," Seaver says. The company purchased another job-tracking software that the supplier said could adapt to Viking's current system, but because of the poor technical support, that system was also relinquished.
After running into so many roadblocks, Viking management decided that it needed a hand with developing an effective job-shop tracking solution and began searching for something that was in development that his company could adapt to its specific needs. The company approached TST Tooling Software Technology, LLC, a North American distributor of Vero Software's Visi products. Viking was already successfully using Visi CAD/CAM/CAE mold design software and heard that TST was in the process of developing TSTracker. Because of this relationship that already existed and because TST's support team had gained a reputation with Viking that they were problem-solvers, Seaver reached out to Eric Bragg, vice president of sales, and Jim Kesteloot, president of TST. He asked them whether there was an opportunity to take what was already in development, tailor it to the needs of a mold shop, and enable processes for updating and advancing it. There was such an opportunity, so the Viking team collaborated with TST's development team to create a shop-floor tracking program dedicated to meeting Viking's needs. With implementation and development complete, Bragg points out that TSTracker is job-shop tracking software that is designed specifically for the tool and mold industry, and it can be customized to fit any individual shop's requirements.
Integrated Systems Save Time
TST also developed, in tandem with TSTracker, an estimating software that is essentially a separate application. It is embedded inside of TSTracker, and it is called TST Estimator. "These solutions, implemented into one software package, made our processes more organized and efficient," Seaver says. "We no longer have to generate quotes in one program and then, if the job is awarded, copy or recreate job specifications in a separate program because the two applications work together."
According to Bragg, users can analyze CAD data to generate a quote in Excel format within TST Estimator, then seamlessly turn that quote into a job, complete with BOM, in TSTracker. TST Estimator eliminates errors from mistakes made during data translation and reduces quoting time by giving users the ability to save critical shop data like volume, weight, cost, and customers' proprietary part information in Excel. This ability to save shop data speeds up the retrieval process when a user is quoting custom jobs. The system uses solids and surfaces and offers users dynamic sectioning capabilities, part comparison, and draft analysis. The system also quickly converts numbers from Imperial to Metric and vice-versa.
In addition, the job-tracking software works with a company's existing CAD and accounting software, which enables users to track job status and quote status and profit-and-loss data without having to invest in additional new software. "Tracker has also helped us keep better track of our materials inventory," Seaver says. "Now that we can see at a glance what is in inventory at any given time, we only order the products and quantities as designed and nothing more, which results in a 10-15 percent reduction in costs, not to mention the time saved on order input and overstock management."
Tracked Processes Reduce Costs
TSTracker provides faster, more accurate quoting and materials management. It also helps increase efficiency in other areas, like administrative functions. Purchase orders in the past, for instance, were not directly linked to their respective jobs. Viking used multiple Excel spreadsheets that required constant updating, and they needed separate software for time tracking, quoting, and job tracking. With TSTracker, Viking's purchase orders and job numbers correlate within the system, which helps the employees on the shop floor organize their jobs during production. It also makes it easy for them to find everything related to a particular job when it comes to organizing the shipping and receiving of molds and tooling. "Shippers know exactly where to place their shipments without disrupting the flow of the tool shop—the shipping bins are numbered by the job, which will match the purchase order and checklist that the shipper generates from TSTracker," Seaver says. "Managers no longer need to stop what they are doing to ensure that products get to where they need to be."
TSTracker makes it easy to track administrative functions by providing complete job histories, inspection tracking, employee accountability, password control, production status, and more at a glance. "The ability to track job histories is great because we can see if the costs of materials and components have changed, and if they have, when and who changed it," Seaver says. Viking can also track delivery changes, who changed them, and when. Employees use TSTracker to electronically log their own time in on the shop floor. TSTracker generates work orders each day, so there is always a shop traveler form with sign-offs that lets managers see who did the work, when they completed it, and if they added any comments or concerns about it. We also use Tracker in our production meetings to review where we stand on current jobs because it helps us communicate better with the data right there."
Seaver stresses simplicity when implementing and developing software of this nature. "I'm one of those guys who needs simplicity. TSTracker is user friendly, requires very little training, can be used right out of the box, and helps increase efficiencies company-wide. It is a great fit for moldmakers because it was designed by moldmakers."