INVESTING IN TECHNOLOGY AND THE WORKFORCE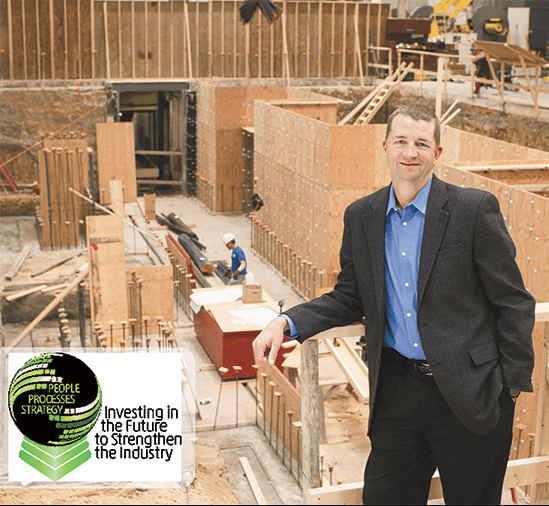 Leading-edge technology, and motivated, well-trained, and talented people—we all know that these key ingredients contribute mightily to the continued success of any manufacturing company. And it is precisely these two ingredients that have the attention of Batesville Tool & Die (BTD) president and CEO Jody Fledderman, as he looks ahead to the next phase of his company's lifecycle.
"Preparing for the third generation of our workforce at BTD, we want to have the best people ready to step in," says Fledderman, "people with the skills to take on the most challenging work. And, we need to step up on the technology side."
As Fledderman takes the reigns as 2014 Chairman of the Precision Metalforming Association (PMA), he sees a unique opportunity to apply the principles with which he leads BTD to help guide the broader metalforming industry to a bright future.
"We're buying new presses to replace older equipment that we don't necessarily need for added capacity," he says. "It's an investment in the future. And we're reaching out to the future workforce— our local high-school kids— to show them the career opportunities manufacturing offers. Maybe every company doesn't need new technology or a fresh pool of labor today, but they will most likely need both soon, to fortify their companies. You have to look ahead."
Servo Presses, 3D Printing and More
A tour of the sprawling BTD plant in Batesville, IN, expanded 19 times since Jody's parents Ron and Jackie launched the company in 1978, reveals plenty of the new technology Fledderman so appreciates. In addition to three relatively new Aida servo presses churning out automotive stampings, there's the huge pit under construction (seen on this issue's cover) that soon will welcome two more servo presses. Also spied: a large-capacity 3D printer (a ProJet model from 3D Systems) used to develop prototype stampings, and a laser scanner (a Romer Absolute arm) for reverse engineering of stamped parts and die sections.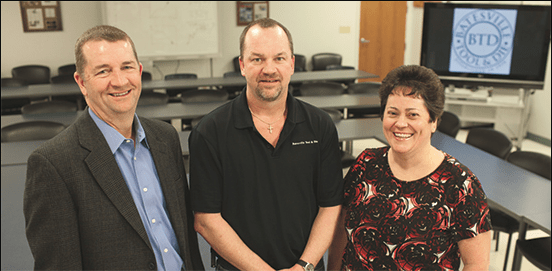 "On the books for 2014," Fledderman adds: "Three new state-of-the-art wire-EDM machines and a waterjet-cutting machine."
In addition to building technical muscle, BTD has been busy developing its software portfolio. Its ability to leverage its Plex ERP software, for example, is evident throughout the shop via big-screen monitors. Strategically placed, these monitors provide managers and workers a view of various performance- measuring statistics from every corner of the plant.
In addition, most recently BTD purchased six new seats of die-design and development software (VISI, from Vero Software), "to recapture die-design knowledge and bring that core competency back inhouse," Fledderman says.
"Our growth spurts through the early to mid '90s and even more recently led us to focus on stamping and to outsource our die development and manufacture," says Fledderman. "Now we've come full circle and are concerned about regaining that ability. We're doing some very specialized work and we want to protect that intellectual property.
"Further, nearly every member of our executive team came up through the technical side of the company. I'm afraid that by not being actively involved in die design we won't teach the next generation of managers this important aspect of the business. Design is a critical function—any issues with our tooling nearly always traces back to design. We expect that with our new software we'll soon be managing at least 75 percent of our die-design needs."
Fledderman's acknowledgement of the BTD executive committee rings loud and clear when asked to explain his management style.
"I like to make decisions regarding the company's direction and investments based on opinions from several different people from various areas of the company," Fledderman says. "Every major decision goes through the committee. We discuss and share ideas and come to a group conclusion. If we don't, in those rare cases, then I'll take their opinions into account and make a decision, then ask them to support that decision. We've had very few conflicts."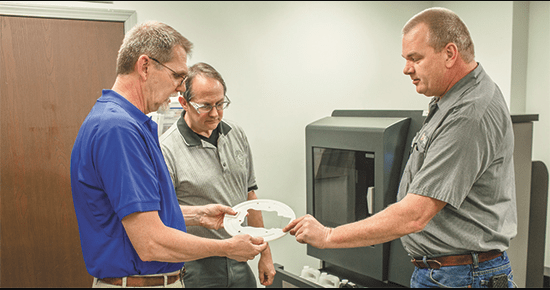 The BTD executive committee:
• Jay Fledderman, vice president of manufacturing
• Joel Fledderman, vice president of stamping
• Bob Holtel, vice president of tooling
• Lance Green, vice president of materials
• Gene Lambert, vice president of sales
• Jim Wintz, vice president of quality
• Jorge Lopez, vice president of finance
As previously noted, most executive-committee members have moved through the company's ranks having developed one or more technical skills. "We believe strongly in promoting from within and providing new opportunities for growth," stresses Fledderman, expounding on yet another management strategy that solidifies the company moving forward. As an example, Fledderman points to Lopez, who served as controller in the BTD plant in Mexico before moving to BTD headquarters and being promoted to vice president of finance.
"Promoting from within and then backfilling from up-and-coming middle managers has helped support our growth," Fledderman shares. "We've never lost a key employee other than to retirement or death. People see a future here. In fact, I believe we can make a full transition in the next 10 to 12 years by bringing in very few employees from the outside, except for entry-level workers to fill our needs on the shop floor."
Role of PMA's Management Development Academy
Helping to backfill the firm's management needs, several BTD up-and-comers have attended the PMA Management Development Academy (MDA — www.pma.org/mda). Launched in 2012 by then- PMA Chairman P.J. Thompson, the MDA is a three-part series of forum-style workshops, instructional seminars and structured networking. Content is designed exclusively for middle- management professionals looking to advance their business and leadership acumen.